Businesses require state-of-the-art call center technology to ensure their customers can enjoy unparalleled customer experiences. As such, call center technologies are evolving, and some of the key call center technology trends include:
The cloud is becoming a top choice for call center solutions. The cloud enables companies to deploy virtual call centers for increased security and efficiency. Also, cloud contact center solutions are flexible, scalable and easy to deploy.
Customers want self-service options. Today's "always-on" consumers often want to resolve customer service issues on their own. Thus, self-service options are generating interest among businesses worldwide — a trend that appears likely to continue in the foreseeable future.
Customers demand multi-channel support. Call centers must manage customer interactions across multiple channels effectively, and failure to do so may lead customers to look elsewhere for products, services and support.
How a company approaches call center technology may dictate its short- and long-term success. If a business is committed to providing its customers with superior support, it may deploy a broad array of call center technologies. By doing so, this business may be better equipped than its rivals to fulfill customer requests.
Types of Solutions in Call Center Technology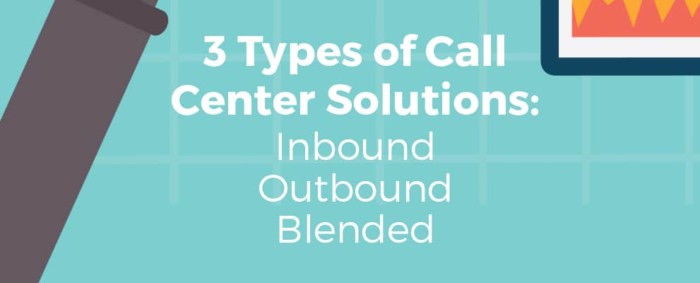 Three types of call center solutions are available:
1. Inbound
Inbound call center solutions enable agents to receive incoming phone calls from clients related to purchasing goods and services, technical support concerns and various customer requests and questions. They can help a company master the call center's dynamic, ensuring the right agents can connect with callers who need support, when they need support.
Furthermore, inbound call center solutions provide automatic call distribution to lower customer wait times, along with call monitoring capabilities to ensure supervisors can help agents hone their customer satisfaction skills.
2. Outbound
Outbound call center solutions frequently serve as an extension of a company's sales team. They enable a business to add and manage agents, campaigns and user groups, speed up the process of making outbound customer calls and help increase conversions.
The solutions also provide marketing automation and lead nurturing tools, allowing a company to maximize its return on investment (ROI).
3. Blended
Blended call center solutions combine inbound and outbound call center capabilities to help a company streamline all of its call center operations. The solutions ensure a business can handle both inbound and outbound customer calls to bolster its efficiency.
In addition, blended solutions can help a business reduce idle time and bolster its productivity.
New Contact Center Technologies
Advanced call center technology is available to support today's businesses, including:
1. Interactive Voice Response (IVR)
IVR offers an automated phone system that enables incoming callers to retrieve information without having to speak with a live person. With an IVR system, a caller will provide information by speaking into a phone or entering numbers on a touch-tone keypad.
Numerous IVR systems offer varying levels of natural language speech recognition. However, some of the top IVR systems can detect grammar and identify words, phrases and even dialects.
2. Automatic Call Distributor (ACD)
ACD empowers businesses to manage a high volume of calls. It will identify the reason a caller contacts a business and route the call to the appropriate terminal or agent. That way, a caller will be able to reach the right person and get the right support consistently.
3. Predictive Dialer
A predictive dialer enables a company to reach out to a large group of customers automatically. It dials from a list of phone numbers and will detect busy signals, disconnected phone numbers, voicemail messages and when no one is available to answer. The system allows a company to keep a customer up to date about a service issue or emergency.
4. Customer Relationship Management (CRM) System
A CRM system provides quick, easy access to customer information, ensuring agents can learn about a customer and work to resolve service issues immediately. The system provides visibility into customer interactions across a company and enables agents to review a customer record at any time.
It also can help bridge the gap between agents and sales representatives, ensuring both parties can collaborate with one another to minimize service issues and build long-lasting customer relationships.
5. Computer Telephony Integration (CTI)
CTI enables computer and telephone systems to work together to improve a call center's efficiency. It allows computers to manage all telephone calls, ensuring an agent will receive a pop-up message with the caller's account information on their computer screen.
This saves time for both an agent and a caller and allows an agent to access a complete customer profile and use this information to provide personalized customer support.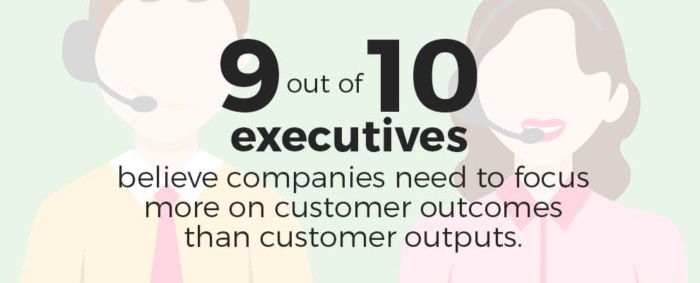 Call center technology can make or break a business. A recent survey showed nearly nine out of 10 executives said they believe companies need to focus more on customer outcomes (loyalty, satisfaction, etc.) than customer outputs (products, solutions, etc.).
With call center technology, agents are able to listen to customers, understand customer requests and learn from customers. As such, contact center technologies empower agents to take a proactive approach and ensure a company can drive positive customer outcomes both now and in the future.
Top 10 Call Center Technology Must-Haves
To deliver superior customer service, a company requires unbeatable call center technology. Here are 10 call center technology must-haves that every company needs to know about:
1. Click-to-Call
A click-to-call dialer enables agents to move from call to call with ease. The solution enables an agent to go from one call to the next simply by clicking a mouse.
Plus, the solution delivers one-click voicemails, call transfers and three-way calling. Perhaps best of all, a click-to-call dialer does not require a phone to make calls.
A power dialer is ideal for agents who need to make a lot of phone calls in a short amount of time. It allows agents to automate dialing, ensuring they can reach more customers than ever before.
The solution enables a company to save time and maximize the efforts of its agents. It even gives agents the ability to create notes, send emails and provide status updates after a call.
3. Predictive Dialing
A predictive dialer enables a company to screen out answering machines, busy numbers, no answers and disconnected numbers. Then, it will predict when the next agent will receive a call.
The solution also boasts a drop call limit feature that guarantees a company will never have to worry about Federal Trade Commission (FTC) compliance issues.
4. Telemarketing Tools
Automating the telecalling process may seem impossible at times. Fortunately, inbound and outbound telemarketing software is available to help a company achieve its business objectives.
The software enables agents to avoid the "telemarketer delay" that frustrates customers and ensures a company can increase its profits by reaching more customers.
5. Silent Monitoring and Whisper Coaching
Although agents may be dedicated to performing to the best of their abilities, it is paramount for supervisors to monitor their progress. With silent monitoring and whisper coaching capabilities, a supervisor can listen in on an agent's phone conversation and provide real-time feedback. Therefore, a supervisor can deliver actionable feedback to an agent instantly.
6. User-Friendly Interface
An agent may become overwhelmed by a complicated call center system. However, deploying a call center solution that features a user-friendly interface could prove to be mutually beneficial for a company and its agents.
The solution is simple to learn and ensures an agent will be able to use it effectively. Meanwhile, the user-friendly interface will allow agents to optimize their productivity and efficiency, increasing the likelihood that a company will be able to deliver excellent customer service day after day.
7. Inbound Screen Pops
Providing personalized customer support can help an agent transform an ordinary customer interaction into an unforgettable one. Now, call center technology with inbound screen pops ensures an agent can receive an instant notification when a call arrives. This enables an agent to greet a customer by name and start a customer interaction on the right foot.
8. Drip Email Automation
Sending customer emails may become costly and time-consuming, particularly for agents who already have a lot on their plates. Drip email automation capabilities ensure agents can streamline the process of sending out customer emails at set dates and times.
These capabilities enable agents to remain in touch with customers and keep them informed about a service issue or emergency. They also can help a company save both time and resources relative to email campaigns.
9. Pre-Recorded Voicemails
Pre-recorded voicemails provide a dependable time-saver. Call center technology with pre-recorded voicemail capabilities gives agents the flexibility to record up to five different messages and leave a personalized voicemail that sounds consistent, focused and fresh.
This means if an agent leaves eight one-minute voicemails per hour in a 170-hour work month, voicemail automation could help a company save up to 22.7 hours per month, per employee.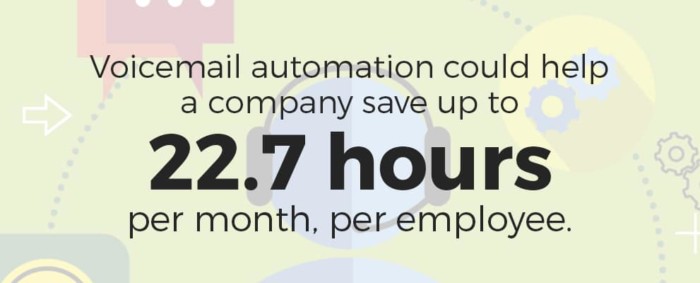 10. CRM Integrations
Salesforce, LeadMaster, Sugar and other CRM software empower employees to automate everyday work tasks, improve customer service and more. Call center technology with CRM integrations ensures agents can use a CRM tool in conjunction with a business' call center operations.
Together, call center technology and CRM software can help a company understand customer service trends, identify opportunities and move closer to accomplishing its immediate and long-term goals.
What to Look For in Call Center Technology Providers
Many call center technology companies provide a wide range of solutions. If you know what to expect from a call center technology company, you should have no trouble finding the right partner.
Here are some of the key factors to consider when you search for a call center technology company:
Portfolio
Does a call center technology company offer inbound, outbound and blended call center technology solutions? Evaluate a call center technology company's portfolio, and you can find out if this business offers the solutions you need to enhance your call center operations.
Support Service
How does a call center technology company support its customers? Ultimately, you'll want to find a call center technology company that can deliver helpful and competent support. This business will learn about your call center operations, offer relevant solutions and assist you in any way possible.
Affordability
Does a call center technology company offer solutions that match your budget? Although your company may want the latest and greatest call center solutions, you might have limited resources at your disposal. With the right call center technology company at your side, however, you should be able to find the right call center solutions at prices that won't break your budget.
User-Friendly Software
Does a call center technology company provide software that is easy to deploy and simple to use? If not, your company may be in trouble, especially when it comes to teaching agents how to utilize this software.
Select a call center technology company that provides user-friendly software — you'll be glad you did. This company will ensure you can implement user-friendly call center solutions and teach agents how to utilize these solutions without delay.
Customer Satisfaction
Are customers satisfied with the support they receive from a call center technology company? Choosing a call center technology company with a proven brand reputation ensures you can work with a business that is dedicated to your call center's success.
Cutting-Edge Technology
Is a call center technology company committed to providing its customers with cutting-edge technology? Find a call center technology company that is driven to innovate.
This business will devote the necessary time and resources to enhance its portfolio and ensure its customers can reap the benefits of superior technology.
Proven Results
Does a call center technology company provide solutions that actually work? A call center technology company that has helped its customers save both time and money as well as improve their call center operations may prove to be an ideal choice.
Sales Software
Does a call center technology company provide sales software? A call center technology company should be able to support your company's call center and sales teams as well as provide solutions to foster collaboration between both departments.
Experience
Does a call center technology company employ experienced professionals to help customers implement and optimize their call center operations? Search for a call center technology company that boasts extensive experience, and you're sure to find a business that possesses the skills and know-how needed to help your company revamp its call center operations.
Availability
Is a call center technology company ready to assist you at any time? Your call center technology company should be able to support you across multiple channels and do whatever it can to ensure you can get the most out of your call center solutions.
Interested in how our Cloud Call Center Solution in with your company? Try Dolphin Dialer for free today. No credit card needed.