Choosing the Best VoIP Provider for Your Business
Landlines are 
so 2000
. Pretty soon, you'll be hiring new grads who have never used a landline in their life! If your business continues to use landlines, though, don't worry. There's still time to upgrade your system, and it's easy to do. You just have to choose the best VoIP provider for your business. But how do you know which one that is? In this article, we'll help you answer that question.
What Is a VoIP Phone Service?
A VoIP, or voice over internet protocol, service is a system that transmits telephone calls over the internet rather than over a traditional phone line. A VoIP provides the basic communication services a conventional phone system does but can also offer a variety of other features at a low cost. The fact that your phone system is connected to your computer network through your internet connection enables many of these features. How does a VoIP work? It converts audio into data packets, transmits the packets across the network, and then converts them back to audio. It does this for both outgoing and incoming audio.
The Benefits of a VoIP Phone System

So, why exactly is VoIP so much better than a traditional phone service? Well, it offers some pretty valuable benefits. Some VoIP features and benefits include:
Reduced costs: VoIP phone services can save you a considerable amount of money compared to traditional landlines. With ZoomCalls VoIP, you get truly unlimited calls and a lot of features you wouldn't get with landlines at a lower price. ZoomCalls can save you even more money as compared to some other VoIP providers who have call restrictions and per-minute charges. With ZoomCalls, you never get these extra charges or restrictions.
Simple setup: If you have an internet connection, you can quickly set up your new IP phone. VoIP uses the technology you already have, such as routers and Ethernet cables. All you need is an IP phone, which is easy to install, or a softphone, which allows you to make calls from your computer. The setup process requires very little technical know-how.
Increased efficiency: Using VoIP helps to streamline your communication by connecting your phone service to your network. With ZoomCalls, you can easily collaborate with coworkers and quickly connect customers to the right solutions. Your customers will appreciate this increased efficiency.
Enhanced flexibility: Traditional landlines aren't very flexible. Today's businesses are. That's why you need a flexible solution like a VoIP office phone service. A VoIP system can route calls to desk phones, cell phones and colleague's phones so you can ensure the call always get answered quickly.
Excellent call quality: Today's VoIP systems offer outstanding audio quality, so you can ensure your customers always hear you loud and clear.
Bonus features: With ZoomCalls, you get features for free that would be expensive or even impossible with a landline-based system. ZoomCalls never charges extra for standard features. Features include call recording, call waiting and conference calls.
Steps to Choosing a VoIP Provider
Okay, so we've established that
VoIP phone systems
for businesses are a good idea. Once you've decided you want a VoIP, you still have the challenge of deciding which provider and which service to go with. How do you go about determining which is the right VoIP provider for you? Try following these steps.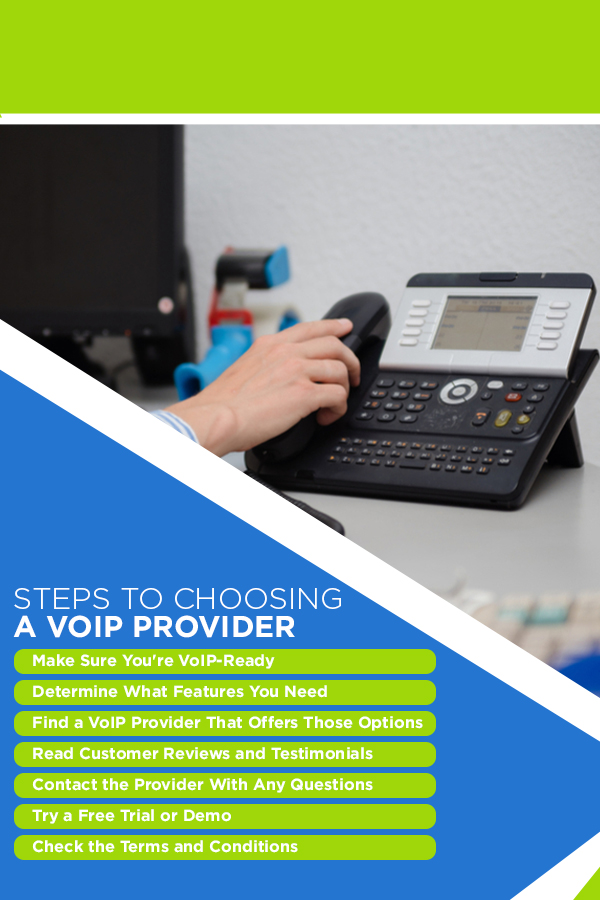 1. Make Sure You're VoIP-Ready
Before you start looking at VoIP service providers, take a minute, and make sure your business is VoIP-ready. There are two things you'll need. The first is an internet connection with a download speed of at least 1 MB per user and ping under 90 ms. You can 
test your connection's speed here
. The other is an IP phone or a softphone. You can use existing IP phones or 
purchase new ones
. The other option is a ZoomCalls softphone, which is technology that enables you to make calls from computers and other digital devices. Our 
Cricket technology
 is similar to a traditional softphone but also offers tools such as pre-recorded voicemail drops. Our other dialing software includes built-in softphones.
2. Determine What Features You Need
The next step is to do some research about what features are available from VoIP providers. Different providers offer different packages, so compare them carefully. You should also assess your business to determine what features you need and which are the most important for your company. Also, take a look at your budget and figure out how much you're willing to pay for your VoIP service.
3. Find a VoIP Provider That Offers Those Options
Next, do some more research and find VoIP providers that offer the options you're looking for. Compare the features offered by various services and the costs of those services to find the provider that matches your needs the best.
4. Read Customer Reviews and Testimonials
Once you find a provider or two that fits your needs, take a look at some reviews and testimonials about them. This is a great way to get a feel for how the best VoIP providers are. It will give you an understanding of how reliable each company is and what their customer service is like. At EVS7, we're quite proud of the 
nice things customers say about us
.
5. Contact the Provider With Any Questions
Sometimes, it's easier just to talk to someone to get the information you need, especially if you have specific questions. Once you've done all your online research, and you've found a provider you're interested in, why not contact them with any remaining questions you have? This way, you'll get your answers, and you'll get a better idea of how responsive and friendly their customer service is. You can get into contact with us by 
filling out our online form
, emailing us at sales@evs7.com or calling us at 1-800-713-8353 or 1-972-713-6622.
6. Try a Free Trial or Demo
To get a feel for how the technology works, start a free trial or request a demo. This is an excellent way for you to check out exactly what you'll be getting if you choose a particular provider and to make sure their system meets your needs. If you have an IP phone available, one user can try ZoomCalls free for seven days. We'll program your IP phone for you over the internet so you can make calls.
7. Check the Terms and Conditions
As a final step before making a purchase decision, check the terms and conditions of the agreement. Make sure you understand the length of the contract term and how much you'll be paying. Watch out for hidden fees and excessive usage charges. Beware of contracts that lock you in or charge you if you cancel. With EVS7, you pay month to month and can cancel anytime, so you don't have to worry about getting locked in. We also have no setup fees, per-minute charges, hidden fees or extra charges for standard features.
What Should You Look for in a VoIP Company?
Now you know what steps to go through when choosing a VoIP provider, but what are the things you should check when evaluating a VoIP company? How do you know when you've found a really good one? Here's what to look for.

1. Fair Plans and Pricing
Cost is, of course, an important factor to consider. Check how the company's prices stack up against the rest of the industry for the features offered. Also, make sure they offer a pricing plan that works for you. Some providers require yearly payments, while with others, you can pay monthly. We charge per month and offer lower rates for companies that pay quarterly or yearly. Also, watch out for hidden fees and extra charges for features — things you'll never encounter with EVS7.
2. Excellent Customer Service
A company's customer service can really make or break your experience with their product. Look for a company with fast, friendly, helpful customer service and technical support. We offer unlimited phone support plus online resources that you can access at any time.
3. Clear Call Quality
All of the fancy features that VoIP offers won't do you much good if the call quality isn't up to par. You still need clear, quality audio so you and your customers can communicate effectively. With EVS7, you get crystal-clear audio on all of your calls. All you need to do is make sure you have a reliable high-speed internet connection and an adequate IP phone or computer.
4. Scalability
Are you expecting your company to grow in the coming months or years? Look for a service that's easy and affordable to scale up. That's one the advantages of sending calls over the internet. You can simply use your existing internet connection for new users. ZoomCalls is perfect 
for one to 1,000 users
, and there's no minimum amount of users, leaving you plenty of room to grow.
5. Transparency
Transparency is another quality that the best VoIP providers have. The company you choose should be up-front with you about exactly what you're getting and how much you'll have to pay for it. At EVS7, we value being transparent. That's why we offer free trials and demos — they show you exactly what you'll be getting before you make a purchase decision. We also make sure our pricing is transparent. Many other companies have add-on costs and charge for "excessive usage" even under unlimited calling plans. With EVS7, you know exactly what your bill is going to be every month. You'll never get any surprise charges or fees, and our unlimited calling is truly unlimited. We have no per-minute charges, setup fees or hidden fees. We don't lock you into contracts either.
6. Features
You'll also want to check which features each service comes with and compare them to your needs. Look for features that will have the biggest impact on helping you reach your business goals. Be sure to note which ones are included and which ones cost extra. Different businesses prioritize different features, but here are some to look for:
Unlimited calls: With EVS7, there's no limit on the number of inbound or outbound calls.
Voicemail: With our system, the calls you don't answer go to voicemail, and you receive the messages instantly by email.
Auto attendant: Our auto attendant automatically answers calls and provides callers with menu choices.
Transfer to voicemail: With this feature, you can choose to send a call straight to a voicemail box.
Conference calling: With ZoomCalls, it's easy to talk to multiple people simultaneously.
Call waiting: If you receive another call while on a call, you'll hear a beep notifying you.
Call transfer: The call transfer feature makes it easy to transfer people, and you can choose between announced or blind transfer.
Individual call recording: To record an individual call, all you have to do is click.
Local or toll-free phone number: We provide one free local or toll-free phone number for each user. When you make outbound calls, your number will display.
Phone number porting: With ZoomCalls, you can keep your existing telephone numbers with free phone number porting.
Do not disturb: In do not disturb mode, all calls go directly to voicemail, and the messages are immediately emailed to you.
Intercom: The intercom function allows you to make a call to an extension's speakerphone.
Call forwarding – Follow Me: This feature enables you to forward a call to another phone number or extension.
Music on hold: You can choose whether callers hear music or your ad when on hold.
Inbound call center: This feature enables agents to wait in a queue for calls and includes wait time and other statistics. We offer this as an add-on for $59 per month per call center.
All calls recording automatically: This function automatically records all of your conversations on a cloud server. We offer this feature as an add-on for $29 per month.
Extra phone numbers: We can provide additional phone numbers for $5 per extra number per month. Each user gets one free local or toll-free phone number.
Get the Best in VoIP With ZoomCalls

Now you know how to pick the best VoIP provider for your business. Are you ready to upgrade your company's communication system? If you're looking for a world-class VoIP system, consider ZoomCalls from EVS7. Our business VoIP phones lines enable you to make unlimited calls to the United States or Canada for a low monthly cost with no per-minute charges or hidden fees. ZoomCalls provides many features for a low cost that a traditional landline couldn't offer or that other VoIP providers charge extra for. With ZoomCalls, you get a wide range of features including a free local or toll-free number, free phone number porting, voicemail, call waiting, call transferring, call forwarding, conference calls and more. You also get industry-leading audio quality, friendly customer service and helpful tech support. We also offer a range of other products including our 
Cricket
 Click Dialer Software, 
Dolphin
 Power Dialer Software and 
Parrot
 Predictive Dialer Software. You can also 
contact us
 with any questions you may have. Get started today!