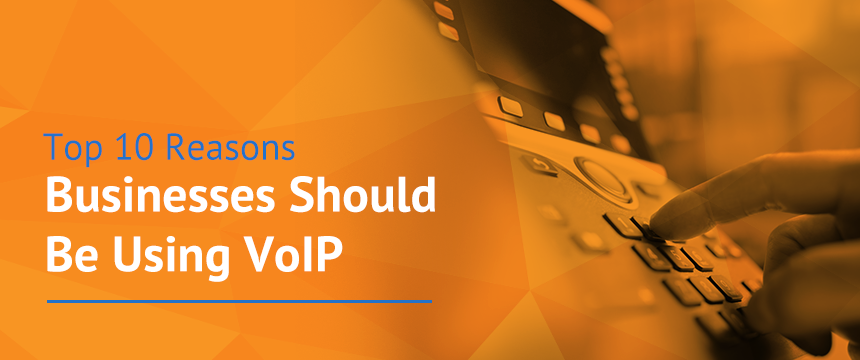 Businesses now have many ways to get in touch with clients, such as email and chat. But it's likely that you still use phone service for the bulk of your communications. If your company has a call center, people might regularly call you to discuss concerns or to negotiate their bills or other services. As technology has changed, so have the systems businesses use for phone service. At the end of 2016, there were 
63 million VoIP subscriptions in the US
. More than 22 million of those subscriptions were from businesses. There are many reasons why businesses are choosing VoIP over traditional landline services. Learn more about VoIP services and the many reasons to use VoIP.
Understanding VoIP Technology
Traditionally, when a person made a phone call, the call traveled over copper or fiber lines from the caller to the recipient. With VoIP technology, aka "voice over Internet Protocol," calls are made over an internet connection. Some types of VoIP connections require you to use a computer to make calls (think of services such as Skype). Other types use either VoIP handsets or traditional phone handsets that are hooked up to a VoIP adapter. Some VoIP services are cloud-based, meaning that the hardware and software required to make the connections work are stored in the cloud, on secure servers. Since it was first introduced, VoIP has become increasingly popular. The US VoIP market is expected to grow 
from $20 billion in 2018 to $55 billion in 2025
. If you're considering VoIP for your business but are on the fence about making the switch, take a look at a few benefits of VoIP.
Why Get VoIP for Businesses?
From reduced costs to increased flexibility and portability, there are several reasons why VoIP is the right call for your business.
1. Better Price
If your business is regularly looking for ways to trim its expenses and cut costs, you're not alone. Whether it's due to concerns about the economy or a desire to maximize income and profits, it's common for companies to look for effective ways to reduce their expenses. One way to cut costs is to get a better price on phone service. The lower price of VoIP services is one factor that has 
significantly contributed to its rise in popularity
. If you are seriously considering making the switch to VoIP for your business, it is a good idea to shop around and compare the prices offered by providers. Some companies bundle everything into one monthly, per-user price. Others claim to offer their services for a fix monthly rate, but then tack on extra fees such as overage charges or expensive installation costs.
2. Reduced Costs
The lower price tag of VoIP service isn't the only thing that can help your business save money and cut costs. Choosing VoIP itself can also help to reduce costs. For instance, when your business uses a traditional phone line, it needs to pay to have the service installed. If you want to add a new phone line, you need to have someone come out to your office or location and run the wires to add in the new line. You also have to pay for hardware and equipment for the new phone line.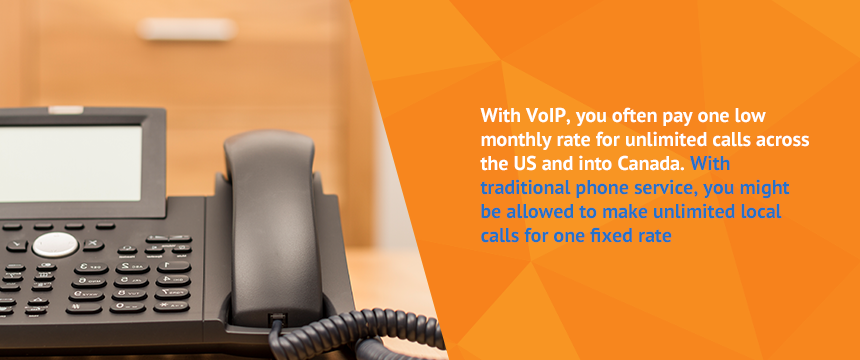 With VoIP, you often pay one low monthly rate for unlimited calls across the US and into Canada. With traditional phone service, you might be allowed to make unlimited local calls for one fixed rate. But if you call outside of your area code or make a phone call to Canada, you'll need to pay extra. Depending on the contract you have, you might have to pay a hefty per-minute fee or pay per call. Another cost you might encounter with traditional phone service is a cancellation or early termination fee. With many conventional phone service companies, you need to agree to a contract, usually for at least one year, when you sign up for service. If you have to break the contract, for whatever reason, you're generally expected to pay a sizable termination fee. With VoIP, it's easy to find a service that is available on a month-to-month basis. If you're not happy with your service, you can cancel whenever, without paying a fee.
3. Portability and Flexibility
With a VoIP phone system, a phone number isn't tied to a single handset. If you are awaiting a critical work-related phone call, you don't need to sit by the phone in your office to receive it. You can program the system to have your phone ring in your office, on your mobile phone or on your phone at home. The flexibility of VoIP makes it easier for you to stay in touch and can help you resolve issues quickly and efficiently. If you are currently using a phone system that only rings the phone in your office whenever you get a call, it is all too easy to miss calls. Even if you quickly call a client back, you might find yourself in a game of phone tag. When you don't miss the call in the first place, you can resolve concerns quickly, so that everyone can get on with their day.
4. Loads of Standard Features
When you sign up for traditional landline service from a phone company, you often get phone calls, and that's it. If you want extra features that make it easier for you to run your business and manage your telecommunications needs, you'll need to pay extra. Many VoIP systems include a wealth of standard features, all designed to meet the needs of businesses of all sizes. The features included with VoIP service not only make it easier to make and receive calls. They can also help to create a more enjoyable communications experience for your clients.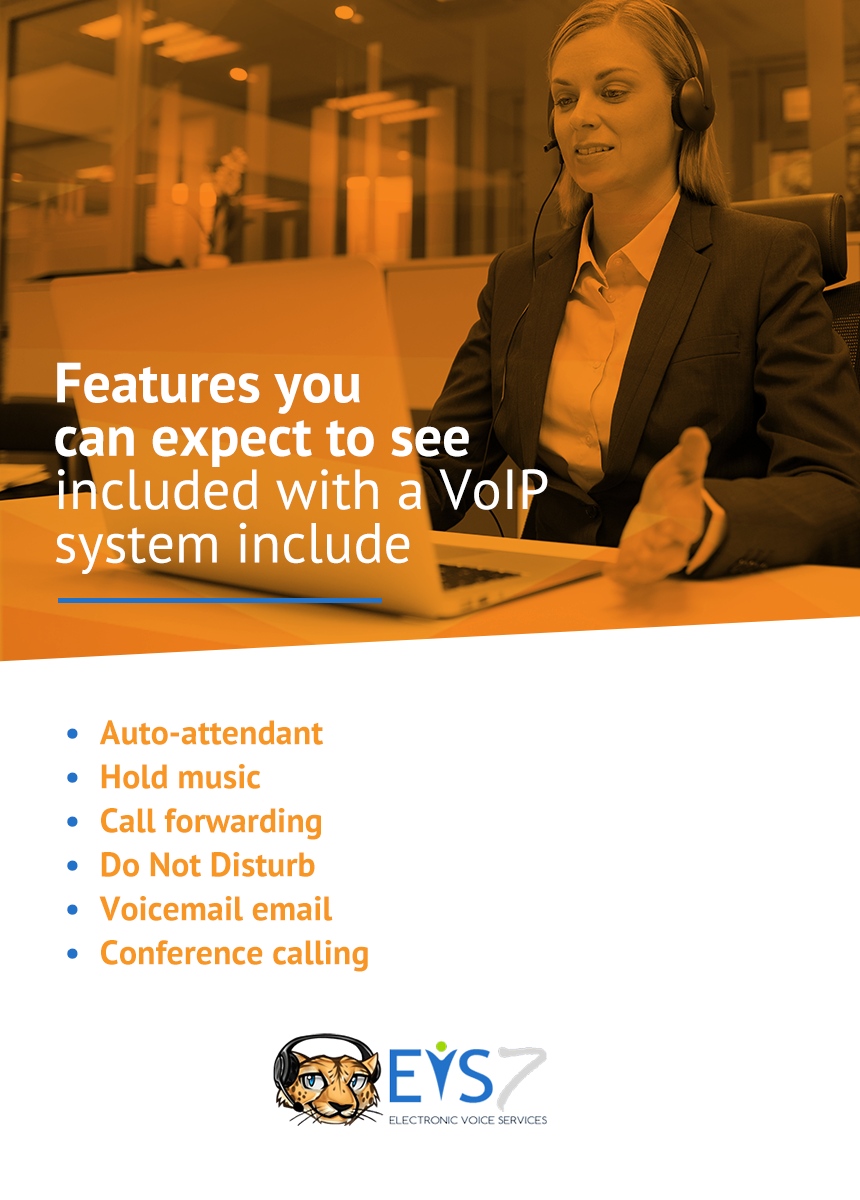 Some of 
the features
 you can expect to see included with a VoIP system include:
Auto-attendant. When clients call your company, they often have specific needs and goals. The auto-attendant feature picks up the phone and presents callers with a list of menu options. The caller can choose the option that will best meet their needs.
Hold music. Waiting on the phone for someone to pick up can be boring. If there's absolute silence on the other end, a caller might not be sure if they are still connected. Some VoIP systems include the option of playing music or an ad when callers are on hold.
Call forwarding. If one of your employees isn't available, it's likely that there's someone else on your team who can help out the caller. With call forwarding, it's easy to send calls to another user.
Do Not Disturb. There might be times when you're too busy to take calls. The Do Not Disturb feature will send any calls right to your voicemail so that you can listen to and respond to them later.
Voicemail email. If you miss a call, the caller has the option to leave a voicemail message. As an added benefit, any voicemails you receive get emailed to you. There's no need to dial in and wait to find out what someone has to say.
Conference calling. With a conference call feature, you can communicate with a group of people simultaneously, for no extra charge.
5. Increased Employee Communication
With VoIP phone service, it is easier for employees at an organization to get in touch and to communicate with each other. Features such as conference calling mean that a team can check-in and touch base even when some are working from home and others are based in offices on the other side of the country. The intercom feature also makes it a snap for employees to reach out and check in with each other when they are working on projects together or when one of them has a question for a co-worker. Additionally, features such as call transfer make it easy for one employee to transfer to a phone call to a team member who might be better able to help the person on the line.
6. Efficient Call Forwarding
Call forwarding takes some of the frustration out of trying to reach a person who might be away from their office. With call forwarding, you can program a phone to ring a different phone number if you know that you'll be away for a day or more. For example, you can set up call forwarding to have your work phone ring your home office phone or your cell phone. Another option is to have your calls forwarded to a co-worker when you're away from the office for an extended period. If you're going away for vacation, you can have your calls sent to a co-worker or to a manager, who can then give the best service and assistance possible to any clients who needed to reach you.
7. Increased Client Retention
VoIP allows you to improve your customer service and to boost the experience your clients have with your company. When a client calls your business and has their issue or concern resolved quickly, they are going to be happier with your company than if they gave you a call and no one answered the phone or they were on hold for far too long. When clients are happy with the services they receive from a business, they are more likely to keep on working with that company. What's more, they are also likely to refer others to your business, helping your company grow and increase its bottom line.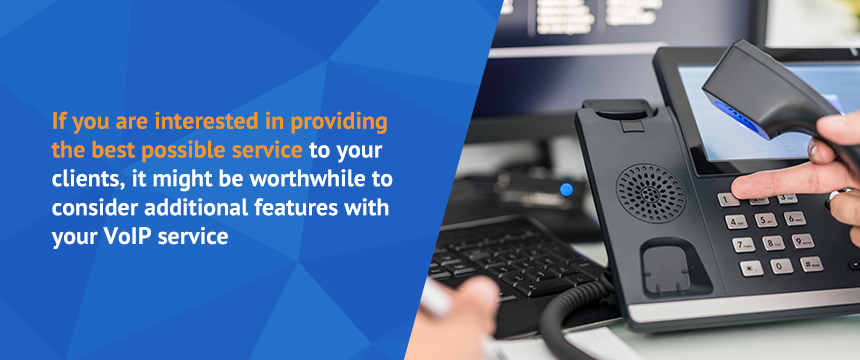 If you are interested in providing the best possible service to your clients, it might be worthwhile to consider additional features with your VoIP service. Add-on features such as a call center allow you to take calls in the order they arrive. You can also evaluate the average wait time and other calling statistics, to find ways to improve the service you offer your customers.
8. Easy Installation
With a cloud-based VoIP phone system, installation is simple. Setting up a VoIP system is often easy enough for you to do yourself, provided you have the necessary equipment, such as a router and ethernet cables. You don't need to run wires through the walls of your office or hire a professional to connect you to the phone lines out front. The only thing you really need for VoIP to work effectively is a high-speed internet connection. As long as you have download speeds of at least 1MB for each user, you should be good to go. Another benefit of installing a VoIP phone system is that you don't have to give up your business' existing number to do so. Whether you've been in business for 20 years or 20 months, your existing number is a critical piece of your identity. It's how people know how to reach you. Phone number porting is often included as a standard feature with VoIP phone service.
9. Excellent Call Quality
In the early days, VoIP calls sometimes had a reputation for not having the best sound quality. Some people compared using a VoIP phone to talking to people over walkie-talkies. Fortunately, those days are pretty much in the past. Today, you can expect call quality to rival, if not surpass, the quality you'd get from a traditional landline phone. You can also take action to help make sure the quality you get from your VoIP phone service is top-notch. Having a super-high-speed internet connection and using excellent quality VoIP phones will help to ensure that your calls are crystal clear. For example, using a Category 6 ethernet cable, rather than a Category 5 cable, can help to improve how data is sent over your connection, improving the quality of your calls.
10. Easy to Add New Users
Ideally, your business is growing. That might mean that you're adding new employees to your team regularly. When you add new team members, you might need to give each of them their own work number or extension. VoIP makes it easy to grow your team. You pay for VoIP service by the user, and there are no minimum user requirements. In some cases, you can have up to 1,000 users, meaning your business has plenty of room to grow. Since VoIP is cloud-based, you don't have to hire an installer each time you add a new user. All you need to do is get the right equipment for the new user's phone line, such as a VoIP phone. Each user on your company's VoIP service enjoys the same benefits, such as unlimited calls, no per-minute charges, voicemail, and call forwarding. You also have the option of purchasing an additional phone number for each user, if you need more than one number per person.
Learn More About How ZoomCalls From EVS7 Can Benefit Your Business
Although VoIP offers many benefits to businesses, it's worth remembering that not all VoIP service providers are the same. EVS7 is the "no price tricks" phone company. When you choose 
ZoomCalls
, our cloud-based VoIP service, you get a load of standard features all for one low, monthly per-user price. There are no hidden fees or surprise add-ons to your bill each month. Business owners can enjoy many advantages of VoIP. If you're looking for a better phone service, get in touch with us today.