Who's Talking?
I once received a phone call from a local radio station. Yet, this was no ordinary call. It wasn't a live disc jockey who I could chat with about the music I like. Rather, it was dialing software "who" phoned me. I knew the radio station was implementing something known as interactive voice response technology, or IVR, to speak to me. Before I go any further, I must say whoever put this particular marketing campaign together
did a marvelous job
. It should also be noted that I previously gave the radio station permission to contact me. I was glad they did! Immediately upon answering, I was greeted by a pleasant pre-recorded woman's voice who alerted me "You've been selected to play our trivia game for a chance to win two tickets to the Bahamas. All you have to do is correctly answer the following three questions. Are you ready? Press 1 to hear the first question." Admittedly, I don't normally participate in these kinds of things, but who could turn a deaf ear from a free trip in the Caribbean? Not I – my significant other would kill me! So, I played the radio station's sweepstakes, and I shouldn't tell you this but I was declared a winner because I happened to know that Justin Timberlake was a member of the 90's boy band 'NSync. Go ahead. Judge me all you want – I was singing "Bye, Bye, Bye," all the way to the Bahamas.
The trip was fun and the clear blue ocean is a sight I'll never forget. But something else I'll remember for a long time is how the radio station used an IVR system to place the phone call. It was the first time I had been exposed to such an effective use of the technology. What I appreciated most (well, second-most) was the fact that the radio station gave me the control – gave
me
the power – to make the decision to proceed with the call. I felt my time was being respected, so their business gained my respect and attention in return, prize or no prize. Call centers and businesses alike can use the same interactive voice technology to facilitate many other types of campaigns that will surely earn their customer's attention, too. IVR call center software is an automated phone systems that greets and direct callers through either DTMF (Dual Tone Multi Frequency) tones or speech-recognition technology.
Its basic function is to act as a surrogate for a phone operator, arbitrating who speaks with whom.
 IVR stands for Interactive Voice Response, and common uses include:
Forwarding in a call center
Office routing
Customer Service departments
Credit card services
Polling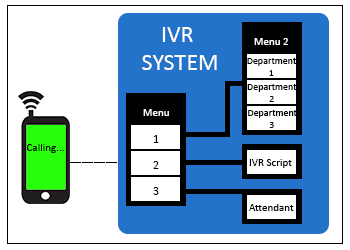 IVR's intended use is for managing high volumes of
inbound calling
and decreasing customer service costs while improving customer experience. The goal is for customers to
service themselves
by listening to the voice prompts and either inputting their response via keypad or voice.
Hey, did you notice? IVR software makes the customers do some of the work for you. No sweat off your back!
The interactive voice system usually handles basic requests such as paying a bill, finding out account information, routing to the proper department, or finding out store hours and location without talking to a person. This frees agents to deal with customers who need more involved assistance. IVR can also be used to extend a company's customer support to 24 hours, allowing for requests (using the IVR) to be fulfilled or voicemails to be taken for live agents to return during their hours. IVR systems are currently best suited for simpler requests. The processing for DTMF tones and speech-recognition especially is still flawed. Consumers often become frustrated with IVR systems and it's quite common for them to attempt to bypass the prompts to immediately find a live person. When designing your IVR system, think like who will be using it. What will be the least confusing way to reach a resolution to their call?
Inbound IVR vs. Outbound IVR
Outbound IVR would be used in something like a press 1 campaign or robodial campaign made as an outward dial: "Hello there, press 1 if you'd like to speak to someone about financing for your business".
Inbound IVR (or call menus in Parrot) refers to when a customer calls a number and then hears an interactive voice: "Thank you for calling EVS7, to speak to sales press 1, press 2 for support."
IVR & the Parrot Cloud Call Center
An IVR call center is one of the features offered with
EVS7's Cloud Call Center
. Called a Call Menu in the system, it gives callers a recorded menu of routing choices. The caller then presses the corresponding menu option on the keypad, and the Call Menu routes them accordingly. A new DID (Direct Inward Dial) must also be created so that the main inbound number will send calls to the Call Menu. The Call Menu can either hang up after playing a message or send calls to:
Extensions
Specified phone numbers
In-Groups
Call Menus
DIDs
Any AGI (Asterisk Gateway Interface) script on the system
The Call Menu can also route calls to different voicemail inboxes if the selected agent is not available. A few other options for Call Menu settings include:
Timer Action – trigger actions (such as going to voicemail) after a period of time has passed
Safe Harbor – plays an audio file if the call is considered a Drop
Campaign Survey for survey or Press-1 type campaigns
After Hours Call Menu
Wait Time Option
Hold Time Option
Below we have an example from the Cloud Call Center of a Call Menu.
IVR/Call Menu Report
The Parrot Cloud Call Center also offers reporting for the Call Menus. The report will show the total number of:
Calls that came into the Call Menu
Calls that came in without any Caller ID information
Unique Caller IDs
Paths that callers took ranked by popularity
Conclusion
Interactive voice technology is phenomenal when used appropriately. Before making the decision to use IVR, reflect on who are your customers and the campaign's particular goal. Yes, some customers will prefer speaking with a real person beginning with the initial contact. However, most people don't mind interacting with an automated voice because it directly funnels them to the exact agent or in-group they need to speak with, rather than being passed around from one agent to the next. An IVR call center system can be an excellent addition to your company's customer service. The options in the system are customizable, allowing for the IVR to be tailored to the needs of your specific customer base. It can reduce the burden of answering inbound calls and reduce time spent on the phone for both employees and customers. However, the detection technology for DTMF tones and voice has not been perfected. Develop a well-crafted IVR that keeps in mind the drawbacks, while offering the easiest solution for your customers. Overall, if your goal is to accelerate customer service or a particular campaign, you should be utilizing IVR technology.