How to Access Personal Callbacks
How to Access Personal Callbacks
Once you have scheduled a personal callback or your manager has assigned a callback to you, agent only callbacks can be accessed and reviewed under the
My Callbacks
tab of the activity bar located at the bottom of the agent screen.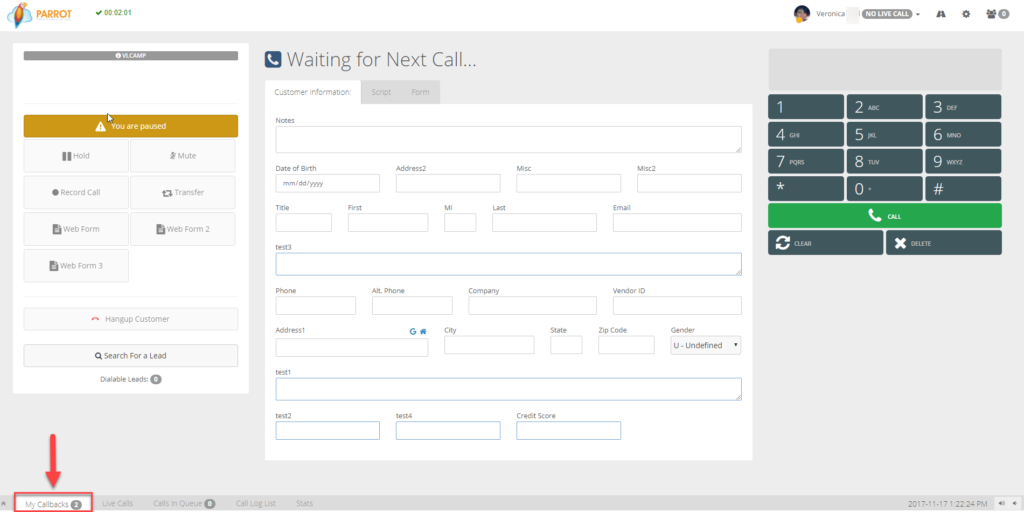 You will be able to view the callback date/time, lead's phone number, call back comments, full name of lead, the campaign the lead is assigned to, and the last call date/time. You will also see the
STATUS 
of the callback which will either be set to
LIVE
or
ACTIVE
.

ACTIVE:
 The scheduled callback date and time has not yet occurred.
LIVE:
The scheduled callback date and time has already passed. Depending on how your manager has alerts setup, you will see a
blinking, red, or blinking red alert
in the My Callbacks tab notifying you that you have LIVE callbacks scheduled. To dial the lead, click the
green phone icon
under the
OPEN
column.

You will be taken back to the main agent screen where the lead's information will appear and the system will start dialing the lead automatically.