How to Use Hot Keys
How to Use Hot keys
Hotkeys allow agents to quickly hang up and disposition a call by pressing a number on their keyboard rather than a series a clicks it takes to hang up, disposition, and submit a call.
Note:
This feature is setup by your manager.
Step 1.
If Hot Keys are setup by your manager, you will see the
Activate Hot Keys
button on the left side of the Agent Screen under the Hangup Customer button. Click the
Activate Hot Keys
button.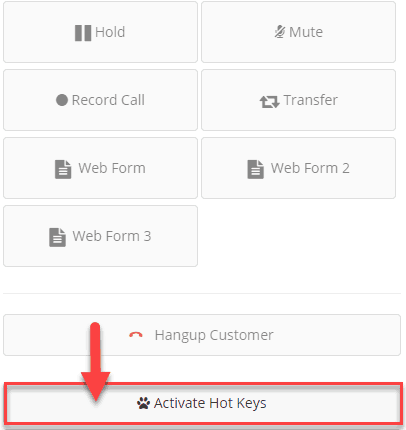 Dispositions, along with their corresponding number, will appear at the bottom of the agent screen for you to refer to. The image below is an example. Dispositions and hot keys are dependent on how your manager setup.

Step 2.
Start dialing and end the call by pressing the number on your keyboard keypad that corresponds with the desired disposition. The call will hangup, disposition, and the system will continue to dial using whichever dial method you are using. For example, if you manager setup the hot keys such as in the image above, the agent would press 2 if there was no answer. You can deactivate hot keys anytime by clicking on the
Deactivate Hot Keys
button and the Disposition Hot Keys description will disappear from the Agent Screen.