How to Receive Inbound Calls
How to Receive Inbound Calls
Agents are able to receive inbound calls within the Ratio and Manual dial methods.
Note:
Inbound calling is a feature enabled by your manager.
Step 1.
 Login to the 
Agent Screen
 using your agent credentials.
Step 2.
You will automatically see a "
You are paused
" button appear on the left side of the Agent Screen to indicate you are on pause mode.

When you are ready to start receiving inbound calls (or inbound
and
outbound in Ratio mode), click on the "You are paused button." The button will turn green and will state "Ready" to indicate the agent is on ready mode.

Step 3.
Wait to receive a live call. Click the pictures to enlarge and carefully review the information that follows. When an inbound call is connected to an agent, the following information will
 always appear:
Lead phone number under campaign bar
Lead ID
Call duration
Lead contact time in their time zone
Campaign bar will change colors depending on ingroup
Ingroup name will appear on bottom right with lead's phone number as well
The following information will appear only if the lead's information is loaded into the system:
Lead information on Customer Information Tab will appear
Script or form may appear automatically and some fields may be pre-filled if manager setup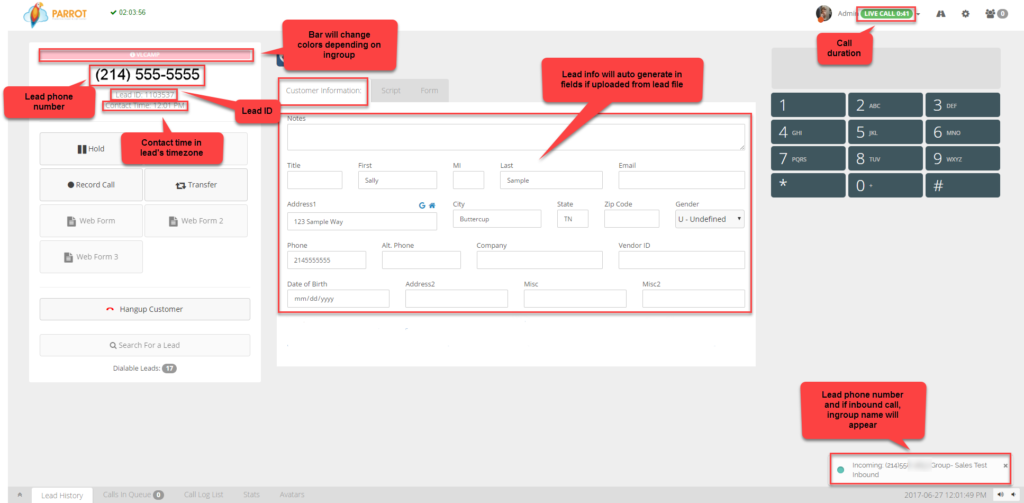 When an inbound live call is connected to an agent, the agent will 
hear
:
A "ding" sound will be heard to indicate the call has been connected. Note: It is important to start talking immediately after the "ding". Otherwise, the customer may think the call was disconnected.
Step 4.
 Read script, if applicable, and modify lead information via the customer information tab or form tab if necessary. 
Note: Customer information is modifiable during a call and while an agent is in the disposition screen. Once the disposition has been submitted, the lead's information is no longer modifiable.
Step 5.
 Hangup and disposition the call. When the call is complete, click on the 
Hangup Customer
 button on the left side to display the dispositions.

Click on the desired disposition and click 
Submit
. The agent will automatically return to "ready" mode unless "pause agent dialing" is selected from the disposition screen when in that case, the agent will go into "pause" mode once the call has been dispositioned.