How to View and Grab Calls in Queue
How to View and Grab Calls in Queue
View Calls in Queue
If enabled by your manager, the Calls in Queue tab will be located in the activity bar at the bottom of the agent screen displays the inbound, outbound, and transferred calls waiting in the queue. When calls are waiting in queue, a red circle with the number of calls waiting in queue will appear in the Calls in Queue tab.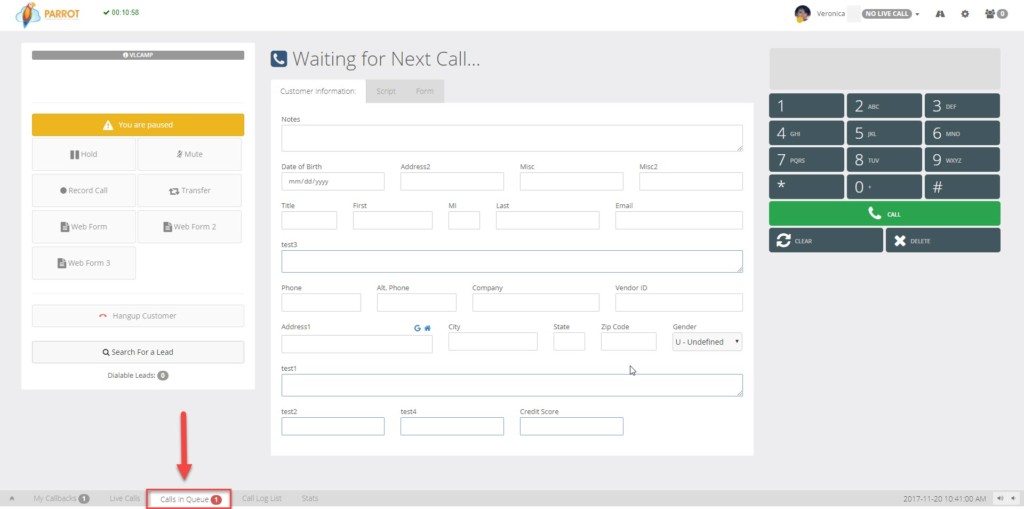 Click on the
Calls in Queue
tab to view:
lead's phone number
full name of the lead if the lead's information has been previously loaded into the system by your manager
how long the lead has been waiting in the queue
the color and name of the ingroup if an inbound call or the campaign name if an outbound call (CALL GROUP)
whether the call is inbound or outbound (TYPE)

The AGENT column will display one of the following:
name of the agent the call was transferred from
the inbound phone number the lead dialed to get to the queue
VDAD-Outbound Auto dial indicates an outbound call which was answered and still on the line
Grab Calls in Queue


If your manager has enabled the Grab Calls in Queue option, a blue link labeled
TAKE CALL
will appear in a separate column next to the lead's phone number. Make sure you are on pause and click the
TAKE CALL link
to send the call to you.

Note: 
If the lead's information has been loaded into the system by your manager, the information will appear on the customer information tab. Otherwise, the phone number, lead id, and lead's contact time will only appear.