How to Use Keypad to Manual Dial
How to Use Keypad to Manual Dial
Step 1.
 Login to the 
Agent Screen
 using your agent credentials.
Step 2.
Once you are logged in a keypad will appear on the right side of the agent screen.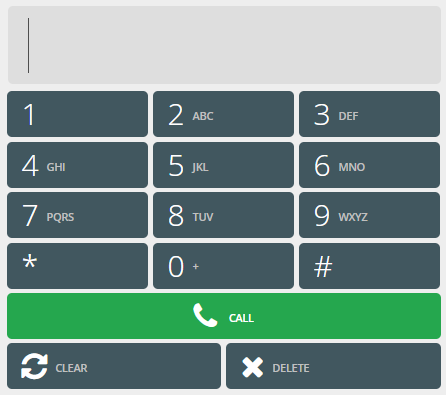 There are two ways to enter a number.
Method 1:
Click in the empty field above the keypad to place the cursor in the empty field and using your computer's keyboard keypad, enter the phone number.
Method 2:
Click on the digits of the agent screen's keypad and the phone number will appear in the field above the keypad. To delete one digit at a time, click on the
DELETE
button. To delete an entire entry at a time, click the
CLEAR
button.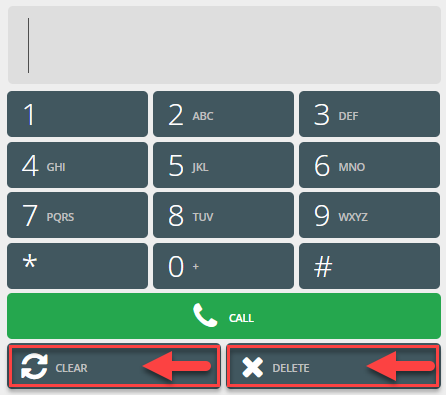 Step 3.
Click
CALL
. You may hear one of the following:
live human answered call
answering machine or voicemail
phone ringing and no answer
busy signal
disconnected message
Note: The lead's information will only appear in the customer information tab using the keypad dial method if the lead's info has been previously uploaded by your manager. 
Step 4.
 Read script,
if applicable
, and modify lead information via the customer information tab or form tab if necessary. 
Note: Customer information is modifiable during a call and while an agent is in the disposition screen. Once the disposition has been submitted, the lead's information is no longer modifiable.
Step 5.
 Hangup and disposition the call. When the call is complete, click on the 
Hangup Customer
 button on the left side to display the dispositions or statuses.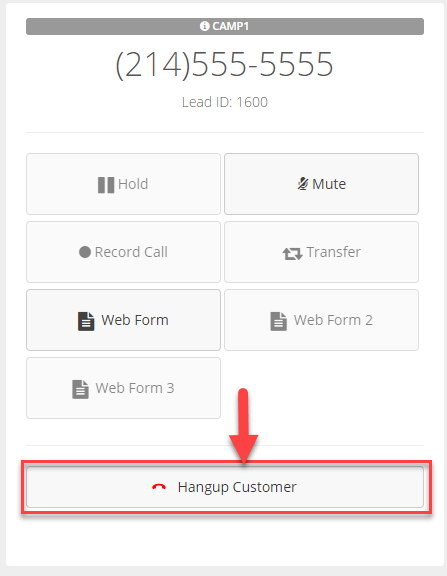 Click on the desired disposition and click 
Submit
. You will be returned to the main screen to continue to make calls if using the manual click to call method. If the primary dialing method is ratio dialing, the agent will automatically return to "ready" mode unless "pause agent dialing" is selected from the disposition screen when in that case, the agent will go into "pause" mode once the call has been dispositioned.