Search Knowledge Base by Keyword
Dolphin Cloud Audio Troubleshooting. 
Are you having audio issues when testing out your calls? There are a few things you can look into to help fix your audio problems. You can also check out this article for extra troubleshooting tips in the Dolphin Cloud. 
Headset
Make sure you have the right headset. We recommend that you use a
wired USB
 headset to have the best call quality. You may also use a 
wireless or Bluetooth 
headset. Please note that not all wireless headsets are compatible. In some cases, a wireless headset may be the source of your audio issues. Here are some things you can test: 
 If you can hear audio on different webpages but not in the Dolphin Cloud, then it's likely that your wireless headset is not getting recognized. When this happens, it's best to test the audio with a wired headset. Testing with a wired headset will help you quickly find out what's not working. 

 USB ports can stop working. Test using a different USB port for your wired or wireless headset.
Site Settings
Audio will not work when your mic settings are not set up correctly on the website. This setting helps connect with your headset each time you log in and make a call. Fix this by checking out the site settings for your browser. The microphone needs to get set to allow. Check out this article for more info on the site settings. When it's your first time making a call or a recording in the dialer, you should get a pop-up box asking to allow the use of your mic.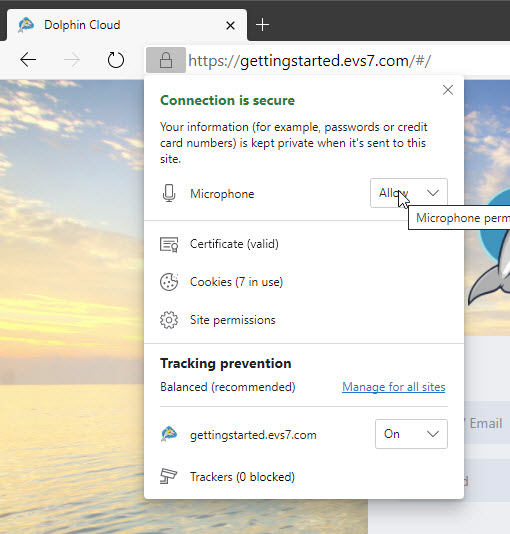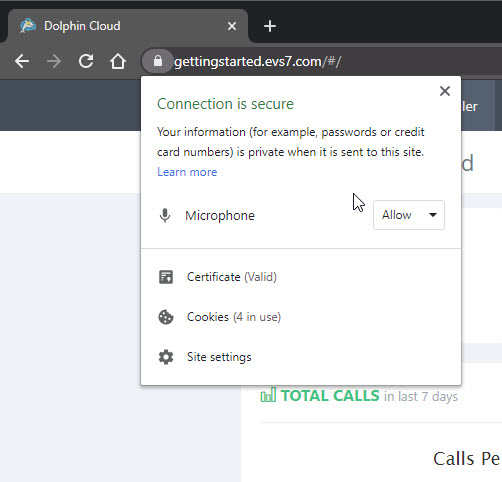 Router
Check your router and make sure it's VOIP compatible. If you have a Ubee or Technicolor modem, you cannot make VOIP calls. Check with your ISP or IT department if not sure what type of router you have.

Restart your router.
Wired or Wireless Connections
In some cases, WiFi can be inconsistent or weak, which gives you choppy call connections or loss of audio packets. To have the best sounding call, use a hard-wired connection from your computer to your router using an ethernet cable. 

Browsers
Browsers can affect whether or not you will be able to hear audio. Check out this article for help with your browser settings. Here are some things to look over: 
Make sure you are using the recommended browser such as Chrome or Edge (and Brave).

Browsers often update, so it's good to check and see if it's up to date. 

You may have too much cache saved on your browser, and it needs to get cleared.