How to Create a Music on Hold Playlist
How to Create a Music on Hold Playlist
You can add one or more files to a Music on Hold Entry to create a playlist for customers to listen to when put on hold by an agent or when on hold waiting in an inbound queue. Note: Ensure that you have previously uploaded your audio file(s) into the Audio Store before proceeding with the following steps. To upload a file in the Audio Store, 
click here
: 
How to Upload Audio Files
Step 1. 
Login to your manager portal using your Admin credentials.
Step 2. 
Click on 
Admin,
then
Music On Hold,
and then
Add a New MOH Entry
 in the left menu.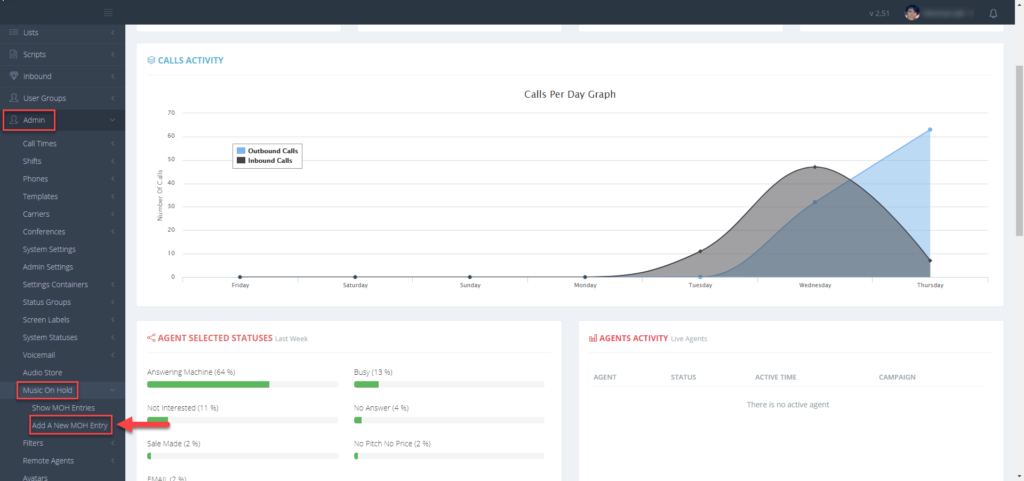 Step 3.
Enter a
Music On Hold ID
or short name between 2-100 alphanumeric characters long.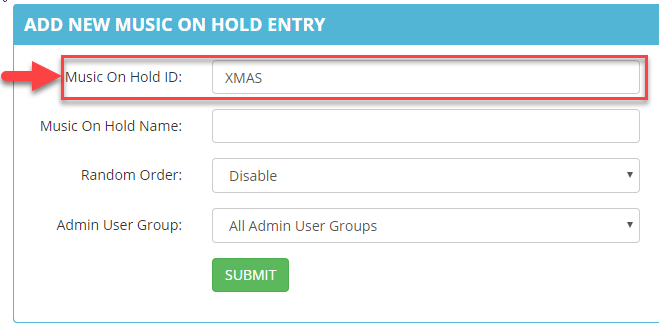 Step 4.
 Enter a
Music On Hold Name
or entry description between 2-255 characters long.

Step 5.
Select
Active
 from the
Random Order
drop down to play audio files in random order or
Disable
to rank them by order to play once settings are expanded.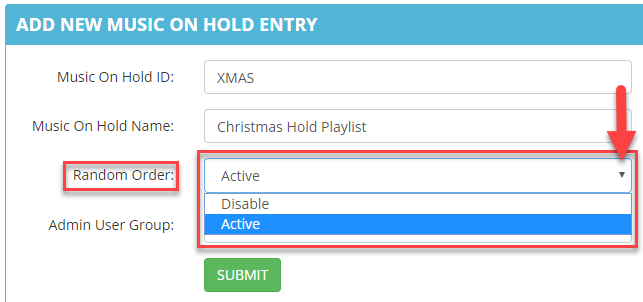 Step 6.
 Select the 
Admin User Group
 from the drop down to allow users at the admin level of a specific user group to view and modify this music on hold entry. Default is All Admin User Groups.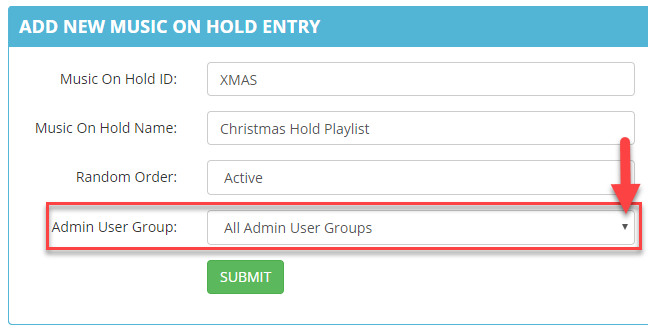 Step 7.
Click
SUBMIT
. The page will refresh and expanded field options for the music on hold entry will appear.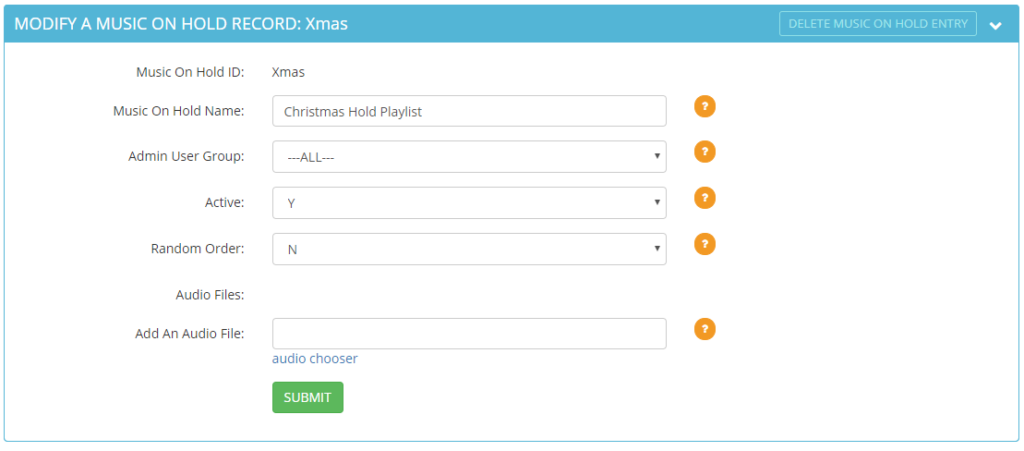 Step 8.
Select
Y
from the
Active
drop down to make the Music on Hold entry selectable from the Music on Hold Chooser which holds the music on hold playlists. Select
N
to make the playlist inactive.

Step 9. 
Click the
audio chooser
link of the
Add an Audio File
field and select the desired audio file that you previously uploaded into the Audio Store.

Step 10.
Click
SUBMIT.
Repeat
Steps 9
and
10
to continue to add audio files to the playlist.

Step 11.
To rank audio files and play them in a certain order, select the
Rank
from the drop down of the
Audio Files
field. For example, Rank 1 will play the file first, Rank 2 will be played second, and so on.

Step 12.
Click
SUBMIT
.